Café Francais
Café Francais
From the Parisian Restaurant in Paris: THE CAFE FRANCAIS.

Rare set (Last one) of SIX Torcher sconces from a set of 16 we purchased from the restaurant-bar: The Cafe Francais in Paris, France, circa 1970.
The sconces are in patinated beech wood, brass arms and frames and circular frosted glass reflectors.
Lampshades are in beautiful hand blown glass with a delicate texture.
This set of sconces have brass knobs and is the last available.
In the original set of 16, some of them came with green glass knobs and frosted glass or fabric lampshades.
Our present set includes SIX identical sconces with brass knobs and beautiful hand blown glass lampshades.
We have included a photo of the sconce inside the cafe in Paris before they were taken down.
Original European wiring. The sconces can be used AS-IS with candelabra light bulbs with socket adaptors (Included).

Provenance: Café Francais Restaurant, Paris France.
Price : Sold
Materials / Techniques: beechwood, bronze, brass, frosted glass
Condition: Good Original Condition. Varying degrees of patina on the brass. Some marks on the wood
Measurements: Approximately 22" height x 12" diameter (shade) x 13 1/2" depth.
Notes: All depends how these sconces are installed on the wall, the total depth can vary in size, between 13"/2 and 15"1/2.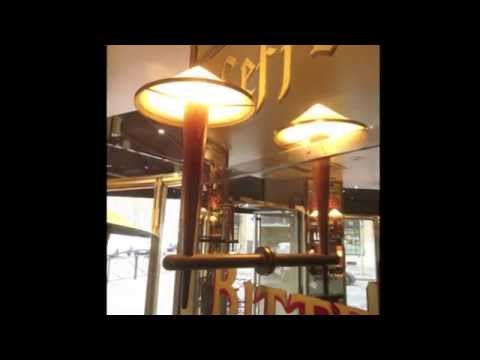 For more information don't hesitate to contact us