RASHIDOV Vezhdi
RASHIDOV Vezhdi
VEZHDI RASHIDOV (Born 1951)

Extremely rare and elegant sculpture in bronze with a beautiful green patina on a base made of patinated brass depicting a standing male figure.

Stamped by the artist's monogram.

H.27" x W.12" x D.5"7/8

Artist: Vezhdi Letif Rashidov is a Bulgarian sculptor born in 1951 and is a very important figure in his country.

He is also a politician and the Minister of Culture in Bulgaria.

Graduating from the National Academy of Arts, Sofia in 1978; as a sculptor, Rashidov has authored statuettes for a number of distinguished prizes, as well as several large-scale works.

Despite being a sculptor, Rashidov is a prominent social figure and has been an outspoken critic of the Movement for Rights and Freedoms.
He became the first non-Movement for Rights and Freedoms candidate in many years to be elected to parliament from that constituency.
As GERB (Citizens for European Development of Bulgaria) decisively won the election and are in charge of forming a government, Rashidov was nominated as the party's Minister of Culture of choice.

This interesting sculpture is a great conversation piece and will easily fit in a variety of interior design projects; antique or contemporary.
Price : Sold
Materials / Techniques: Bronze and Brass
Condition: Excellent and Original Condition, Some marks on the base, wear consistent with age and use.
Measurements: H.27" x W.12" x D.5"7/8
download pdf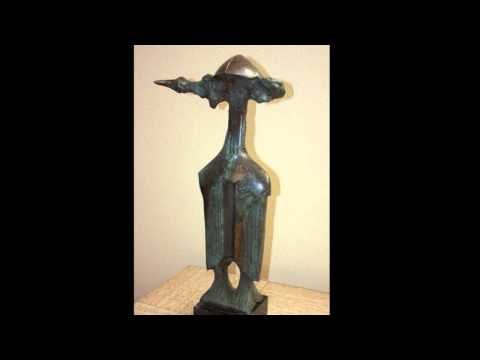 For more information don't hesitate to contact us