Prince De GALLES Hotel
Prince De GALLES Hotel
Prince De Galles Hotel, Elegant 1940 Pair of Brass Sconces.

The sconce bodies are all in their original condition from 1940 and each have varying degrees of the natural patina.
We have had custom silk shades made to match the shape of the original 1940 shade.
We have included a photo of original shade in this listing (last picture).
This set of 70 sconces is the only set that will ever be available on the market coming from the Prince de Galles.
We also feature a set of 1930 adjustable bronze desk lamps and a set of 1930 bronze and crystal table lamps from the hotel.
We also acquired all the brass floor lamps from this hotel and from the same period.
This model was very popular in France during the Art Deco period, even Roger Berthier, Designer Decorator in the 1950 created the same model with different shades.
Ref Mobilier Decoration n°4 May 1959, P.37.
Measurements: 18 3/8" H x 17 3/8" W x 9 1/2" depth.
The sconces have been rewired for US.
Price : Upon Request
Materials / Techniques: Brass and fabric
Condition: Original condition, Original patina, Distressed, some marks and scratches. Wear consistent with age and use. Minor fading.
Measurements: H.18" 3/8 x W.17" 3/8 x D.9" 1/2
download pdf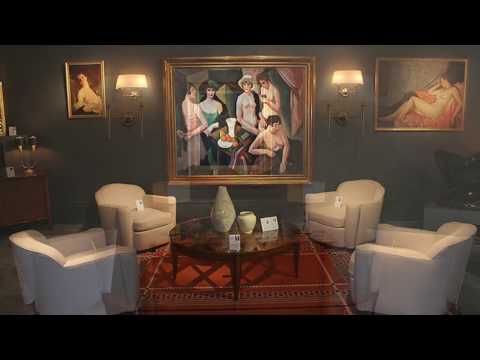 For more information don't hesitate to contact us